Football lovers bazo 'Gcwala nge Diski' in the new season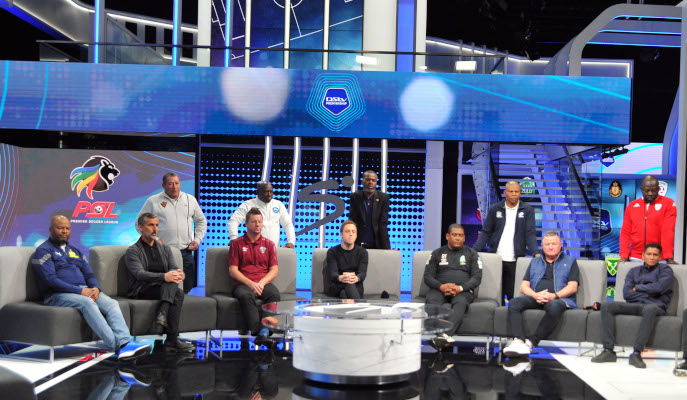 The local diski faithful should brace themselves for an exhilarating 2022/23 DStv Premiership season full of unforgettable experiences, as they return to stadiums when the league campaign kicks off on Friday, 5 August.
DStv, in partnership with the Premier Soccer League, today launched the new DStv Premiership season. It is a season expected to once again have thrilling on-the-pitch battles between the top 16 soccer teams in the top division and off-the-pitch, it will be a season unlike any other for diski lovers.
Since DSTV took over as the domestic league sponsors two years ago, Babize Bonke has been DStv's popular call to all South Africans to come together in the experience of a common passion and love for the beautiful game. And this season, the proud league sponsors has reinvigorated the tagline to Babize Bonke, Si Gcwale nge Diski.
"At DStv, we love and appreciate i'Diski. Now that stadiums are open, we are bringing the love back into the game through our unforgettable fan experiences and plenty of rewards to access the moments around the DStv Premiership. It is only fitting that we rally diski lovers to reignite that infectious passion for iDiski. It's a simple call for fans to gcwala and show love for the game and their chosen clubs, says Nyiko Shiburi, Chief Executive Officer at Multichoice South Africa.
Through the Babize Bonke ba Gcwale nge Diski campaign, DStv has a renewed focus on giving DStv customers, soccer lovers and followers an elevated experience of the new season.
"We are giving fans an opportunity to experience the best sides of i'Diski through tailored experiences in stadiums, at home and on the SuperSport PSL channel. Through our new Perfect Match Experience, Diski fans can get a chance to win a VIP experience to a DStv Premiership match, or have a big screen viewing at home nabo makhelwane or come in to studio to see how SuperSport brings them world class productions. That is why at DStv we say, si Gcwala nge Diski," Shiburi added.
The league action will kick-off with a mouth-watering clash between sides that finished last season as number one and two, when Cape Town City hosts defending champions Mamelodi Sundowns in Cape Town on Friday night.
DStv welcomes newboys Richards Bay into the top division and wishes all the teams the best of luck for the season ahead as they battle for bragging rights of being crowned 2022/23 league champions as well as receiving R15 million after the 10-month long marathon next May.
All matches will be broadcast live on SuperSport PSL (DStv channel 202).
To follow the DStv Premiership for updates, diski fans are encouraged to follow @BabizebonkeZA @DStv @OfficialPSLon Twitter and Facebook and to use the #DStvPrem and #BabizeBonke hashtags.
Babize Bonke, siGcwale nge'Diski!
My Perfect Match Day Experience options:
Stadium experience
- You and your friend get collected from your home and enjoy the match in a hospitality suite at a DStv activated match
- Be part of the handover of the Man of the Match trophy for the fixture
- Receive DStv Premiership and your favourite team's merchandise
At home viewing:
- Big screen viewing at home with selected friends
- Full catering of food, refreshments and snacks, VIP style
- Receive DStv Premiership and your favourite team's merchandise In-studio experience:
- You and 3 friends to join the SuperSport broadcast team in the studio for a match
- You will get to experience the live TV production and behind the scenes
- You will have an opportunity to analyse the fixture and make predictions live on TV.