Swallows retain their place in the DStv Premiership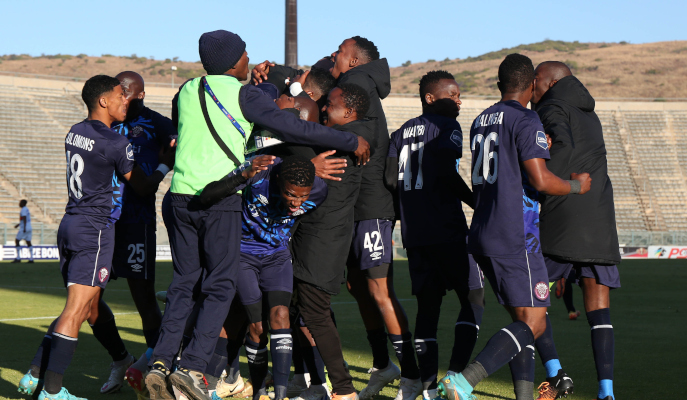 With the PSL Promotion playoffs coming to a close, Swallows FC retained their place in the DStv Premiership for next season after their 1-0 win over the University of Pretoria at the Lucas Masterpieces Moripe Stadium on Wednesday.
The Dube Birds needed a victory against Tuks and managed to do so in a hard-fought victory against the travelling outfit.
AmaTuks were awarded the first notable chance of the game in the fourth minute, as Luvuyo Phewa intercepted a square pass on the edge of the Swallows box before finding Wonderboy Makhubu who was through on goal. Goalkeeper Jody February was then summoned and made a crucial save after coming off his line.
Moments later, Phewa and Samuel Julies managed to get shots on target as Tuks began infiltrating the Dube Birds defence.
With 15 minutes on the clock, Tuks remained the more confident of the two sides and continued to apply pressure in the Swallows half, racking up several chances in the process.
Swallows attacked in sporadic moments as the game reached the half-way mark of the first 45, finding opportunities down either flank but without much success.
It was the Dube Birds chance to attack after 30 minutes and strung a number of passes together, particularly in the AmaTuks half. Swallows looked for the direct ball into the area as Mwape Musonda came close with a header that was saved at point blank range by Thakasani Mbanjwa.
While Tuks began the game on the front foot, it was Swallows who ended the first half on a high note with the score tied at 0-0 after 45 minutes.
The game was stopped momentarily five minutes after the break, after Letlabika fell awkwardly on the half-line following an aerial duel. The Swallows defender later returned to the field of play much to the delight of the fans in attendance.
After a sustained bit of pressure, Yagan Sasman gave Swallows the lead on the hour mark with a left-footed volley on the edge of the box, following a miscued header by a Tuks defender.
With 15 minutes to go, the game opened up as the Dube Birds and Tuks went toe-to-toe on the attacking front. The visitors however, saw more of the ball and began pressing higher up the pitch.
As the clock ran down, Swallows made way in the University of Pretoria half, which at times frustrated the AmaTuks back line, with a number of crunching tackles flying in.
Tuks went the direct route deep into stoppage time, launching balls forward inside the Swallows half. In spite of their desperate attempts, the Dube Birds held on as they managed to claim maximum points.
Swallows retained their place in the DStv Premiership, while the University of Pretoria will remain in the GladAfrica Championship in the following campaign.
Swallows FC (0) 1 (Sasman 60')
The University of Pretoria 0
Swallows FC: February, Solomons, Sibiya, Letlabika (Khupe 64'), Sasman, Mahlatsi, Wambi (Matlou 77'), Margeman, Saleng, Musonda (Ndlovu 77'), Malinga (Nyatama 88')
The University of Pretoria: Mbanjwa, Moeketsi (Majadibodu 38'), Maqoko, Allan, Mani, Mpedi, Tshabalala, Barns (Pheeane 71'), Julies, Phewa (Ighodaro 46'), Makhubu