Chippa, Maritzburg search for first DStv Premiership win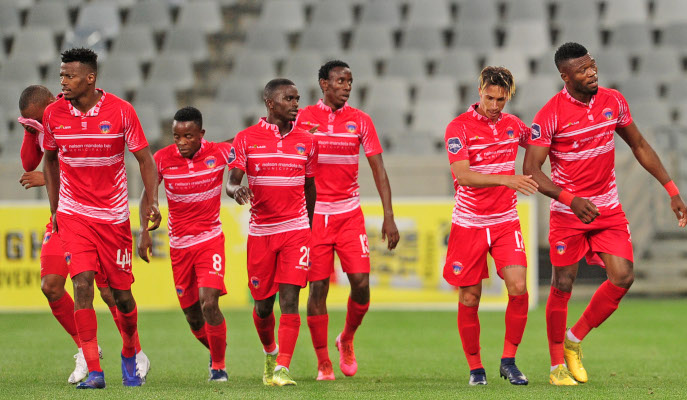 Chippa United will chase their first win of the DStv Premiership season when they host Maritzburg United at the Nelson Mandela Bay Stadium on Tuesday 3 November 2020.
Kick-off at 19h30.
Chippa United have made a slow start to the 2020/21 league campaign, claiming just one point from their opening two matches to put them under early pressure.
The Chilli Boys opened with a creditable 1-1 draw away to Cape Town City on October 24, but three days later they succumbed to a 1-0 loss at home to Soweto giants Kaizer Chiefs, with defender Gregory Damons netting an own goal.
Maritzburg United suffered a second successive defeat when they succumbed 1-0 at home to Cape Town City on October 28, conceding an early goal from which they failed to recover.
The Team of Choice's previous away match was a 2-1 loss at Baroka United on the opening afternoon of the season. The back-to-back defeats have left them level at the bottom of the log with Black Leopards coming into this round of games.
In head-to-head stats, Maritzburg United and Chippa United have met in 14 league matches since 2012/13. The Team of Choice has claimed five wins compared to two for the Chilli Boys, while seven matches have been drawn. The Eastern Cape side has won just one of their seven home league matches in the rivalry, suffering two defeats in the process.
Maritzburg took four points off Chippa last season, winning 1-0 in KwaZulu-Natal in September 2019 before playing out a goalless stalemate in the return game at Sisa Dukashe Stadium in January 2020.
Chippa's line-up from their 1-0 loss to Chiefs on October 27: Mothwa, Hanamub, Nhlapo, Nsabiyumva, Damons, Mahola, Rae, Maloisane, Dinge (Sekotlong 76'), Mdlinzo (Mokhele 46'), Kwem (Eva Nga 82').
Maritzburg's line-up from their 1-0 loss to City on October 28: Barr, Modise (Moseamedi 65'), De Reuck, Ismail, Shandu (Sanoka 65'), Tlolane (Hlongwane 77'), Hlubi (Allie 46'), Buchanan, Claasen (Bongo Mbourou 57'), Meza, Kutumela.
HEAD-TO-HEAD
LAST 10 LEAGUE RESULTS
Season Result Scorers
2015/16 Maritzburg 0-2 Chippa Bance, Mayambela
2015/16 Chippa 2-2 Maritzburg Mbenyane, Malongoane; Zulu, Rusike
2016/17 Maritzburg 1-1 Chippa Mekoa; Lorch
2016/17 Chippa 2-3 Maritzburg Sekome, Mbokoma; Mokate, Lentjies (pen), Fileccia
2017/18 Chippa 0-0 Maritzburg
2017/18 Maritzburg 1-1 Chippa Rusike; Machupu
2018/19 Maritzburg 0-0 Chippa
2018/19 Chippa 2-0 Maritzburg Tlolane, Mbenyane
2019/20 Maritzburg 1-0 Chippa Kutumela
2019/20 Chippa 0-0 Maritzburg