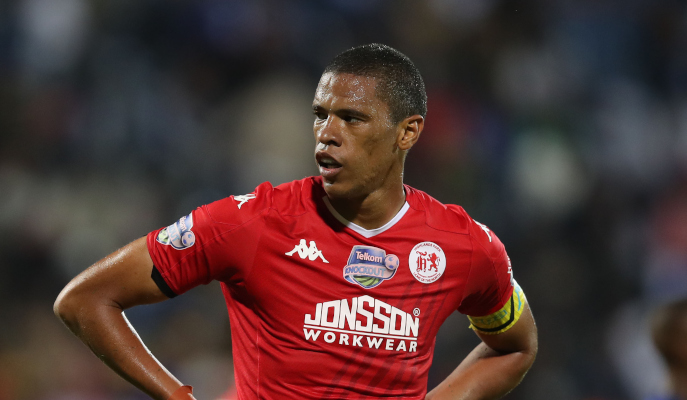 The 36-year-old Highlands Park defender Bevan Fransman, who made his professional debut 20 years ago this month, formerly played for Kaizer Chiefs, Moroka Swallows and Bafana Bafana, and had spells in Belgium and Israel.
He speaks exclusively to SuperSport.com on life in lockdown and what should happen if the Absa Premiership seasons cannot be completed.
How are you coping during this corona lockdown?
"As well as possible because I think for everybody around the world it's new circumstances, a new scenario but it's going better than I expected."
How do you feel physically? There is no way you can be as fit as you were when the league stopped in March?
"Well I think I've actually trimmed down a little bit, surprisingly! I think I've bene fortunate enough to have an old treadmill, a spinning bike, a home gym set up. Enough weights to get you sore. I've been training regularly, yesterday I had a double session. Since the introduction of level four I've been out running on the road as well, which has helped."
Have you been given any indication of when you might be able to train with the other guys, even if in small groups?
"We are just playing it by ear at the moment. Hopefully there will soon come some news that will change our scenario."
You must be itching to play?
"Yes, most definitely. This thing (playing football) is in your blood and you cannot get rid of it! It's an itch that always need scratching!"
Your contract was coming to an end, where you think of ending your playing days at the end of the season and, if so, has this hiatus changed your mind?
"For me, even before lockdown, the plan was to continue next season. I think the condition I find myself in, bodywise, even fitness wise, I'm still in good shape, despite the 36 years in my legs! Before the Christmas beak I didn't feature much but after it, I came back into the team and I played eight, nine successive games without any blemish."
Is the plan then to continue at Highlands?
"I'm in the same boat with a lot of other players where everything has been put on pause with these circumstances., Negotiations would normally have started for next season around this time but now I think not many people are making plans until they see what happens."
There was a Covid-19 scare at Highlands in March already but that proved a false alarm. But what was your reaction to Ben Motshwari of Orlando Pirates testing positive?
"We did the right thing at the time of our scare to take some precautions even though we didn't have as much information then as we do now. You never can be too safe. But with Ben being tested positive, I think it took a lot of footballer aback because a lot of them sometimes are a little separated from the reality of the world. Now they must believe that if 'it can happen to Ben, it can happen to me'. I hope he is coping as best as possible, mentally."
Were you a little bit shocked?
"Not really, because there has been an exponential increase in the rate of infections. Interactions have still been happening, so it was bound to happen. People will only realise this is a serious matter once they are infected, or once someone who is close to them is infected."
Do you feel it's still possible to finish the season?
"It's going to take a lot of organisation from clubs and management, a lot of discipline from players. I think logistically it will be quite testing, considering that we have such a huge country. Then there is also the question of location. Where do we play the games? There is talk of neutral venues. Are all the clubs going to be happy with that? I think there are still a lot of hurdles that need to be passed before we even get to the point of playing again. But, you know what, I think extreme circumstances call for extreme measures."
If the season is not completed, do you think Kaizer Chiefs should be awarded the title?
"I don't think Chiefs have totally run away with the league, they don't have a massive lead. And there are still eight games left in the season. I think other teams will feel hard done by if they call it now because a lot could still happen in the remaining games. I think if they do call the season off, then they must leave it all null and void. That will be tough on teams who were about to be promoted, they would be the most hard done by. But as hard as it is for those guys, I'd call it null and void and we start afresh."