Affonso wants to get back on the pitch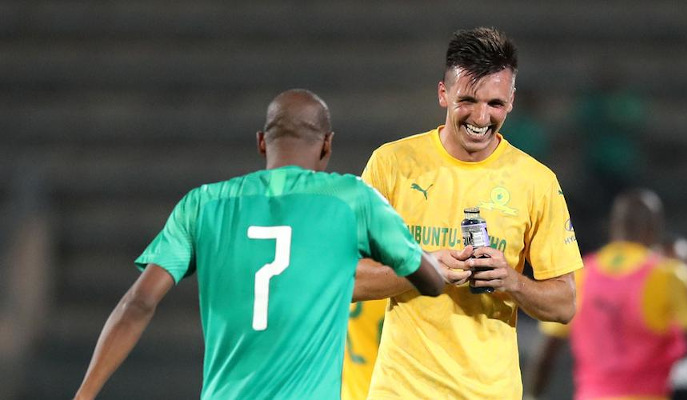 Mamelodi Sundowns frontman Mauricio Affonso admits he misses football and is recovering well at home in Uruguay.
Affonso had been struggling with injuries since joining Sundowns at the start of the season, and had been sidelined with several niggling injuries throughout the campaign.
The player, who is in constant contact with the Downs medical team, is in good spirits and itching to return to South Africa and resume his duties for the club.
"I left as soon as I started finding some form, I scored the goals in the Telkom Cup but was then frustrated with this persistent groin issue I had been carrying."
"That is why after speaking with the club and coach, we decided it was best for me to have the operation and return for pre-season and give the upcoming campaign my all."
The frontman, who is currently in quarantine in his native Uruguay, is recovering well at home and feels as though the best is yet to come.
"It's tough as a player when you get injured, especially when you join a club and have a lot to prove. It takes time to adjust to a new playing style and settle into the club, I was getting there and then this happened."
"The club and the coach have helped me through this and I am always a positive person. I know I will come back stronger and repay the faith they have shown in me."
"This quarantine has made me miss football. I watch a lot of match replays and I'm in constant contact with the club and my teammates, which makes me want to get back even sooner."
Uruguay have imposed major restrictions on movement as they fight the global Covid-19 pandemic. However, Affonso is doing his best to stay sharp.
"I tend to still wake up relatively early. I then do the prescribed physiotherapy to strengthen the groin and problematic areas."
"Once I am done with physio I jump onto Netflix or Playstation and I am there for a while, that's where I link up with Gaston (Sirino) and Ali (Meza) and we play Fifa or Fortnite together."
The Uruguayan hitman scored two goals to help The Brazilians lift the Telkom Knockout title against Maritzburg United in Durban in December, so it is no wonder the technical team are eager for his return.
"The club, coach and doctors have all been great, I am two months post operation and am recovering well. I want to continue doing the rehab work so that I can get back doing what I love the most, playing football."
www.sundownsfc.co.za